April 2020 Market Trends

Average home sales price in Rockingham & Strafford County set a new all-time record high again in April coming in at $414,091 which was a 2% increase of last month's record high of $405,713 and 8% higher than April of 2019 ($383,422). While this time of year we usually see a 10-20% month over month increase in inventory come on the market this year active inventory stayed flat over the past month (increasing from 1,005 units to just 1,010 units) which is driving up the price for homes that are actually out there for sale. We have seen that the demand is still out there as there are currently 950 units under agreement which is the most there has been all year. Current month's supply of inventory for Rockingham County remained at 1.7 this month, based on this lack of available homes we anticipate that the average sales price will remain in this high range until more supply comes on to the market. If all of the economic re-openings go smoothly we see the usual "Spring Market" happening in late Spring/Early Summer for 2020.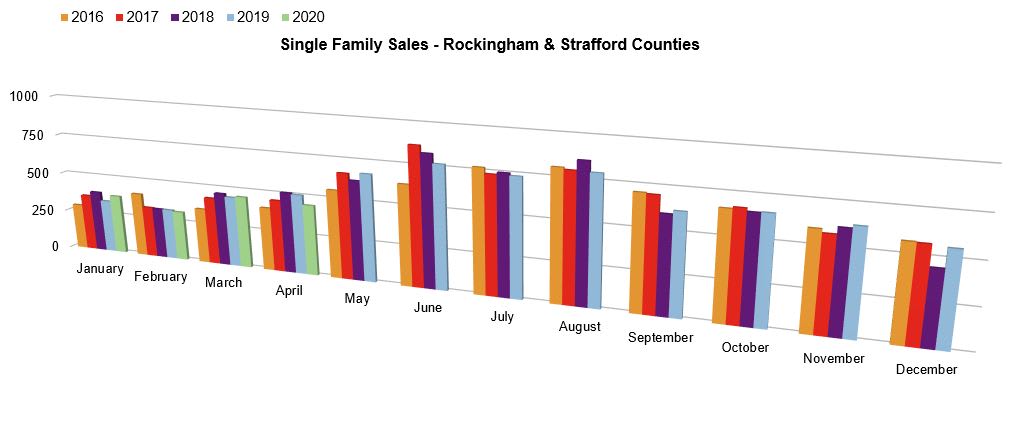 Home sales in Rockingham & Strafford County for April fell 2.2% from last month. This was the first ever March to April sales decline we have seen since we began keeping track in 2013. With all of the uncertainty from COVID-19 this didn't come as a surprise and it was actually a smaller drop than we thought it would be. April's 442 sales were only slightly lower than the 452 sales we had in April of 2017 which turned out to be the highest yearly sales total we have seen in the past 3 years. For the year to date we are still tracking 1.5% higher than we were that year. Compared to April of last year we came in 11.6% lower for the month but we believe that is more a function of lack of supply than it is lack of demand as we are still seeing lots of buyer out there but the current inventory level is 17% lower than it was at the same time last year when we thought supply was low to begin with. We still believe that as soon as things start getting back to some form of "normal" housing sales will get back on track.