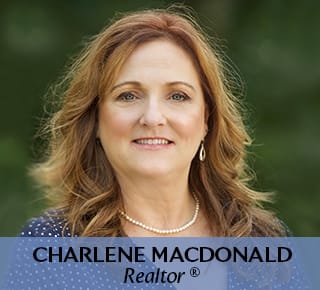 CHARLENE MACDONALD |
Realtor ®
Office Phone: 603-778-6400 Ext. 135  |  Cell Phone: 603-867.8341
Testimonials
"Dan and I would like to thank you so much for all your help with the sale of our home, and the purchase of our new one! You worked tirelessly showing our home, hosting open houses and Broker tours. You always knew what our "competition" was, and advised us accordingly. While we were searching for our new home, your knowledge of the market, the pros and cons of each property we looked at, and input were invaluable to us in making our decision. You coordinated the sale of our house and the closing on our new home and made everything seamless! We can't thank you enough for all your patience and understanding during the entire selling and buying process. You were there for us - every step of the way. We always recommend you to anyone we know who is looking to buy or sell."
Dan & Bev Hanson
"I've been meaning to thank you for all of your help and efforts over the years. You have always worked hard on my behalf and done an outstanding job. You are a true professional and I would never hesitate to recommend you to anyone should they need the services of a Realtor. Thanks again for everything. It has been a pleasure."
Lenny Dionne
"Charlene Macdonald went above and beyond to make sure we were able to turn our dreams into reality. She was wonderful to work with and always stayed in touch with our Realtor to get everything squared away ASAP! We couldn't have imagined a more seamless transaction with a great professional! We love our new home and appreciate everyone's involvement!"
Kate & Josh
"I met Charlene about 6 years ago to look at homes in Hampton but I was not exactly ready. Fast forward to April 2019 when I contacted her again. Charlene always accommodated my schedule to view properties in NH even though I travelled from Southeastern,MA.
She knew that I would need the perfect walking environment for my dog and found my home situated on 60 acres of beauty in Fremont! She is tireless when on a quest to find you a home that exceeds your expectations!"
Karen Martin | FREMONT, NH
"Charlene Macdonald was absolutely fantastic to work with. From selling our condo, to buying our new home, what could have been an overwhelming experience, she made a breeze and enjoyable. Charlene was always willing to go above and beyond for us and she was always so patient, and personable. Her vast knowledge in the industry helped us find our forever home that we had always pictured ourselves growing old in. With Charlene as our realtor, we didn't just buy a house, we also made a good friend in the process too. We highly recommend choosing Charlene to work with if you're ever in need of a realtor. Thanks again for everything Charlene!"
Jessica Foley