March 2020 Market Trends

Average home sales price in Rockingham & Strafford County jumped above the $400,000 threshold for the first time ever coming in at $405,713 for March. This was a 7.5% increase over February and a 12% jump from March of 2019. With inventory remaining so low we don't expect prices to drop significantly even with all of the COVID-19 ramifications. Active inventory finally increased coming in 14% higher than last month. Even with that big gain we are still 12.8% below where we were at the same time last year. With more inventory coming on the market we now more active units (1,005) than under agreement (945) which is the opposite of what we had last month. With all of the current uncertainty in the market it will be interesting to see how it effects the already low housing supply if potential sellers decide to hold off on putting their home on the market. If that happens then the average sales price has a good chance of staying above that $400,000 threshold for a while.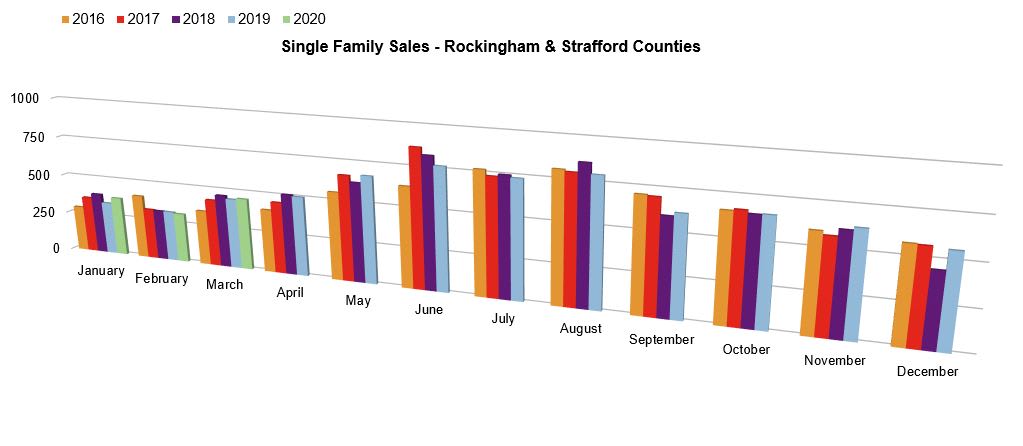 Homes sales in Rockingham & Strafford County jumped 45% from last month which is not unusual for the Spring Market. Even with the early COVID-19 fears the sales for March were 2% higher than March of last year coming in at 452 sales compared to 443 last year. At the end of the first quarter the year to date sales for 2020 (1,137) were 3.8% higher than 2019 and were the second highest first quarter total that we had seen since we began keeping track in 2013 coming in second only to the 1,166 sales in 2018. Clearly before all of the fallout from COVID-19 we were on track for a great year for sales, with all the restrictions now in place and uncertainty in the stock market we expect a little bit of a slowdown in the next couple months but anticipate that as soon as there is an end in sight home sales will jump right back up to where they were heading.