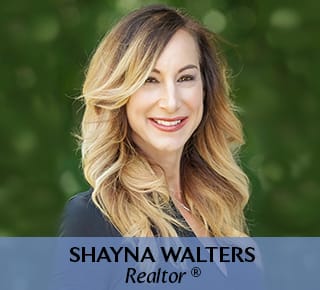 SHAYNA WALTERS |
Realtor ®
Office Phone: 603-778-6400 Ext. 131  |  Cell Phone: 603.978.1603
Testimonials
"You were but a child in the Real Estate world when you first came to our door, but not anymore. Dedication, hard work, attention to detail, and humor, humor, humor, plus your positive attitude and addicting smile are what sold us on having you sell for us"
Larry & Liz Kelly
"Shayna helped us get our first home, and jumped all over the issues that popped up (like a septic cleaning that wasn't asked for, or a lender that wasn't completely up front) and protected us and our interests every step of the way. She was always quick to respond to emails, texts, and calls, and helped guide us through the tricky VA process. Her cheerful nature was greatly appreciated, and her ever optimistic attitude helped us through a couple of setbacks in the lending process. We will definitely be using Shayna when we are in the market again, and strongly recommend her to anyone. You won't be disappointed!"
Justin & Kim Paytnor
"Shayna has been extremely helpful during our house hunt! She is full of energy and excitement about the process. She was able to get our showings scheduled very quickly and worked within the constraints of our tight schedules. She sent us new listings daily and always provided valuable insight on our options. This process was much less stressful with Shayna as our agent."
Erin & Mike Courville
"We were looking to buy a house, I found one I liked and it happened to be one on The Gove Group, so I called and set up an appointment. When we got there we met Shayna Walters and we liked her right from the beginning. She was very excited about helping us find the 'right' house for us. We sat down and she asked us what we were looking for and she started looking right then.
I would text her almost every day about this house or that house and she did her 'magic' and got us in to see all the houses we wanted to very quickly. She would send me links of houses to look at on-line almost daily and I when I found ones I liked she would have appointments by that weekend to see them. We must have looked at over 30 houses!
Finally one Saturday in late February she took us to a new development and we found our new home. It was just an empty lot with about 5 feet of snow but I knew this was it and she did her thing and we signed the P&S agreement shortly after that. She would update us on the progress of the new home frequently and was excited for us. She is not just a real estate agent but a genuine great person who really cares about you, not just looking to hurry up and sell a house. We have been in our new home now for 2 weeks and she still keeps in touch with us. I think I would have given up after the first 20 houses if she was not there for us. Thank you Shanya for helping us find our beautiful dream home!"
Karon & Scott Donahue | ROCHESTER, NH
"I found Shayna with the Gove Group and what a find! She was professional, prompt with all our appointments and meetings, always keeping us up to date with anything she thought would interest us. Communication is so very important in this stressful process and she never missed out on a chance to update us on any and all changes and requirements needed for us to find and complete the sale of our new house. The process was easy and actually enjoyable. As long as you have someone like her on your side it can be quite a fun exciting time. Could not have done it without her guidance, suggestions and support. I would refer her to anyone who asks for a great real estate agent."
Brian & Kim Call
"Working with Shayna was an excellent experience. She is very responsive to our needs and gets things done efficiently. It was a pleasure working with Shayna."
Darrin Bennett
"Thank you for guiding us through the purchase of our next adventure. It was a pleasure working with you, real estate is definitely your talent."
Barbara Bennett
"We had the pleasure of working with Shayna while searching for a house in Maine. We found her to be very positive, professional, and responsive to our needs. She helped us navigate difficult negotiations always keeping a positive and supportive attitude and always keeping on top of the details. We truly enjoyed working with Shayna and would happily recommend her services."
Gayle & Tom Sutton | YORK, ME
"It quickly became apparent to me that when Shayna Walters from The Gove Group became my Realtor for the purpose of selling my existing home at 272 Green Street in Somersworth, NH that effective communication was the key to success. This is one of Shayna's finest attributes. She always kept both the buyer and seller informed with all developments no matter how small or insignificant they appeared. Her stamina, fortitude and outstanding work ethic prevailed as the house was sold in minimum time. Both the seller and buyer were rewarded by her thoughtfulness and caring attitude. The Gove Group is extremely fortunate to have this dedicated individual as an integral part of the sales staff. She is a truly remarkable individual -- I will always be grateful for her assistance. Good luck and Godspeed with all future endeavors."
Bo Beaudet | SOMERSWORTH, NH
"With our children grown and moving on in life, my husband and I decided to sell our home. All we knew is that we wanted to live in New Hampshire. After searching, we came upon The Gove Group and Shayna Walters. After several meetings, Shayna knew exactly what we wanted in our dream home. She was very accommodating with our time schedule and our goals. From the start of our search she was willing to bring us anywhere, and was there to answer any questions big or small. If she couldn't answer our question, we felt The Gove Group worked as a team to get us the correct answers. In the future we would highly recommend Shayna Walters to others searching for their dream home."
The Sullivans
"Shayna helped us find our dream home! I met Shayna in October 2017 and we discussed what we were looking for in a new home. We preferred new construction in the Seacoast/Rockingham County area. She patiently showed me homes that fit my criteria. We emailed weekly and sometimes daily! She always answered my questions and responded quickly to all emails and text messages. When we finally found what we were looking for, Shayna advised us and was with us when we looked at a lot in Prescott Orchards in Epping. She even asked a new homeowner if we could look inside their newly built house! We closed on May 28, 2019 and we are very happy with everything. We knew this was not going to be a quick process, but Shayna was always patient and positive. I would absolutely recommend her to my friends who are in the market for a new home!"
Karen Seaman
"My husband and I were extremely pleased with our realtor, Shayna Walters. She was always positive and extremely helpful. We were comfortable with her from the first time we visited until the closing on our new home. Shayna was very organized and always had listings ready for us to see along with information on each property. She was very responsive to our questions and kept us informed throughout the process. 
We could not have asked for a better agent and we would highly recommend her to prospective buyers and sellers. We felt like we made a new friend and appreciate all her help."
Jeanie Edge